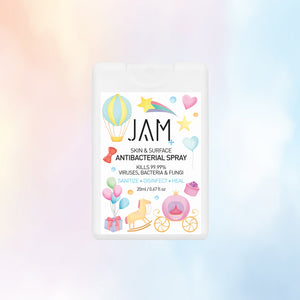 Special Edition Skin & Surface Antibacterial Pocket Spray 20ml (Fun land)
Regular price
$5.90
$0.00
Unit price
per
Get your ultimate protection on the go with rinse-free JAM+ Antibacterial spray. Formulated with hypochlorous acid (HOCl) that kills 99.99% of viruses, bacteria and fungi, it also promotes wound healing. This multi-purpose spray is water-based, non-toxic, alcohol-free, and suitable for daily use.
Kills 99.99% of viruses, bacteria and fungi
Rinse-free
Manage and promote healing for minor wounds
Eliminates odour
Non-irritating, Non-drying and Non-sticky
Non-toxic and Eco-friendly
Alcohol-free
Chemical-free
Fragrance-free
Hypoallergenic
Child & Pet Friendly
Food grade
How to use
Shake lightly before use.
Spray onto hands or skin and rub gently or leave to dry.
Spray onto surfaces and leave to dry.
Spray on wounds daily or when replacing bandages.
Ingredients
Hypochlorous Acid (HOCl), Electrolyzed water
Storage
Store in a cool and dry place away from heat and direct sunlight.
Disposal and Handling
This solution is biodegradable and environmentally safe. No special disposal or handling is required.
MADE IN SINGAPORE
---
Share this Product
---